Adrian Mole's best quotes: what are your favourites?
The angst-ridden, adorably eccentric adolescent left us with innumerable memorable lines. Here are some classic Mole statements, but what are your favourite Sue Townsend quotes? We will update the list with your suggestions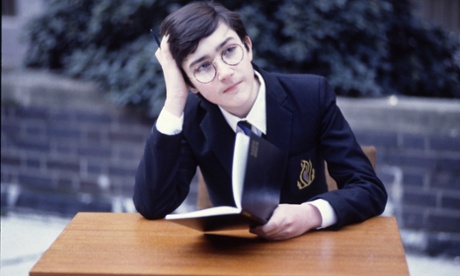 Now I know I am an intellectual. I saw Malcolm Muggeridge on the television last night, and I understood nearly every word. It all adds up. A bad home, poor diet, not liking punk. I think I will join the library and see what happens.
There's only one thing more boring than listening to other people's dreams, and that's listening to their problems.
I'm not sure how I will vote. Sometimes I think Mrs Thatcher is a nice kind sort of woman. Then the next day I see her on television and she frightens me rigid. She has got eyes like a psychotic killer, but a voice like a gentle person. It is a bit confusing.
My mother is in the hospital grounds smoking a cigarette. She is looking old and haggard. All the debauchery is catching up with her.
I don't know why women are so mad about flowers. Personally, they leave me cold. I prefer trees
[Good Friday] Poor Jesus, it must have been dead awful for him. I wouldn't have the guts to do it myself.
I used to be the sort of boy who had sand kicked in his face, now I'm the sort of boy who watches somebody else have it kicked in their face.
My father was reading Playboy under cover of the candlelight and I was reading Hard Times by my key-ring torch.
I have never seen a dead body or a female nipple. This is what comes from living in a cul de sac.
Glenn has been excluded from school, for calling Tony Blair a twat.
My brother has published a volume of poetry, called Blow Out The Candle. The reviews were ecstatic. I hate him already.
I fear I am losing the battle to mould William's character to my own satisfaction. He's only six, but at his age Mozart was selling out concerts all over Europe.
My skin is dead good. I think it must be a combination of being in love, and Lucozade.
Nigel is a punk at weekends. His mother lets him be one providing he wears a string vest under his bondage T-shirt.
Went to see Hadrian's Wall. Saw it. Came back.
I am an intellectual, but at the same time I am not very clever.
Pandora! / I adore ya! / I implore ye / Don't ignore me.
The woman said it is important for an author of romantic fiction to have an evocative name, so, after much thought, I have decided to call myself Adrienne Storme.
Jason Westmoreland's copper-flecked eyes glanced cynically around the terrace. He was sick of Capri and longed for Wolverhampton...
At tea-time I was looking at our world map, but I couldn't see the Falkland Islands anywhere. My mother found them; they were hidden under a crumb of fruitcake.
I've changed my mind about going to London. According to The Guardian lead pollution is sending the cockneys who live there mad.
Nigel says that Sharon Botts will show everything for 50p and a pound of grapes.
A telegram! Addressed to me! The BBC? No – from my mother. 'ADRIAN STOP COMING HOME STOP.' What does she mean? 'Stop coming home'? How can I stop coming home? I live here!
11 April 2014
Last updated at
09:39
Sue Townsend, author of Adrian Mole books, dies aged 68
Novelist Sue Townsend, best known as the author of the successful Adrian Mole series, has died.
Townsend, 68, died at home on Thursday after a short illness.
The first of her comic series, The Secret Diary of Adrian Mole, aged 13 3/4, was published in 1982 and the eighth instalment, Adrian Mole: The Prostrate Years, was released in 2009.
Her other best-selling novels included The Queen and I.
'Incredibly sweet'
Townsend, who was left blind after suffering from diabetes for many years, achieved worldwide success following the publication of the books about teenager Adrian Mole.
The series followed the main character from adolescence under Margaret Thatcher's government, to maturity in Tony Blair's Britain.
Townsend said that, in many respects, her hero mirrored her own experience.
In March 2013, she told the Oxford Literary Festival that publication of the next Adrian Mole book had been pushed back as a result of a stroke she had suffered.
She was diagnosed with diabetes in the 1980s and underwent a kidney transplant in 2009. She had the stroke in December 2012.
Comedian and writer Danny Wallace is one of a number of those who have paid tribute to Townsend.
Wallace told the BBC: "If ever I saw that she was in a town close to me - and I'd never been to book readings or book signings before - but I always made sure I went to hers.
"She was incredibly sweet to her younger fans and I've got all these books at home that she had signed and she would say, 'To Daniel, from Sue Townsend aged 43 and three quarters' or '45 and a half'.
"So she really understood what people loved about Adrian Mole I think."
Actor Stephen Mangan, who played Adrian Mole in a 2001 television adaptation, told Radio 4's Today programme that Townsend took him "under her wing" during filming.
"There was something really special about Sue. She was a hero of mine when I read the books as an adolescent - I was pretty much the same age as Adrian - but when I met her I just fell in love with her really," he said.
"She was warm, she was funny, she was self-deprecating. She was incredibly encouraging.
"It was the first time I'd ever played a lead part in a series and, however confident I must have tried to appear, she instinctively knew how difficult it was for me to come and lead a company with people like Alison Steadman and Zoe Wanamaker and Helen Baxendale. I'll miss her a lot."
Harry Potter author JK Rowling
paid tribute on Twitter
, writing "So sad to hear about Sue Townsend. She gave me so many laughs."
She added: "#AdrianMoleWillLiveForever."
David Walliams also
paid tribute
on the social networking site, calling Townsend "a comedy genius" and "lovely lady" who wrote "some of the funniest books of all time".
Crime writer Ian Rankin described her death as "a real loss".
Writer Caitlin Moran
tweeted that
Townsend was "one of the funniest women who ever lived."
Freedom of Leicester
Townsend was born in Leicester in 1946, and set her most famous work in her home city.
The Secret Diary of Adrian Mole, aged 13 3/4, was followed by The Growing Pains of Adrian Mole in 1984.
The two books made her the best-selling novelist of the 1980s and they were followed by others in the Mole series, including The True Confessions of Adrian Albert Mole.
Several of her books were adapted for the stage, while the Mole series was adapted for radio, television and theatre.
Townsend was awarded an honorary Masters of Arts from Leicester University and in 2008 was made a Distinguished Honorary Fellow of the university.
She was also an Honorary Doctor of Letters at Loughborough University and a Fellow of the Royal Society of Literature.
In 2009 Townsend was given the Honorary Freedom of Leicester.
She said at the time: "I have been a citizen of Leicester for over 62 years, most of my family and friends live here, so I was delighted when I was nominated to receive the freedom of the city."
She leaves her husband and four children.