https://en.wikipedia.org/wiki/The_Lightbox

The Lightbox

is a public gallery and museum located in Woking, Surrey, in the South East of England. Three galleries host a range of exhibitions, changing ...
http://www.thelightbox.org.uk/Pages/Category/exhibitions
The Lightbox has three galleries which have regularly changing exhibitions and a permanent local history musuem 'Woking's Story'.
Please see below for details of our current programme.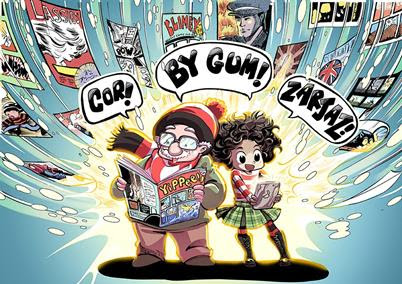 英國漫畫的古往今來

很多人都是透過看漫畫紓壓或是當作閒暇時的娛樂,但我們卻往往不會將這個大眾熟悉的繪畫形式與藝術聯想在一起。為了讓大家完整認識漫畫的歷史與展望,位於沃金的The Lightbox藝廊正在舉辦一場特別的互動式展覽,期望帶領觀眾以不同的視角重新看待這項通俗藝術在英國的發展。這場展覽從三千年前的古埃及象形文字開始追溯漫畫的源起,一路涵蓋了十八世紀知名諷刺漫畫家William Hogarth的作品,乃至近代風格俏皮的Grayson Perry,以及新近崛起的漫畫家Asia Alfasi。這場展覽將持續展出至今年底,且未滿十八歲者可免費入場。無論你是不是個熱血漫畫迷,想必都能在這場以漫畫為主軸的展覽中找到樂趣,心動的話就趕快行動吧!

(圖: Asia Alfasi and Hamish MacGillivray, The Story of British Comics So Far © The Artist and The Lightbox.)