英國的健保制享譽世界,如今也快撐不下去了.......
We must fight government plans to privatise the NHS
The Tories truly believe that the market does things better, despite mountains of evidence to the contrary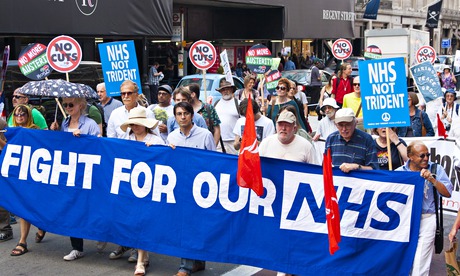 Imagine you are feeling a bit groggy, maybe a bit fed up with life. You go to your doctor. Or telephone them, or Skype them, or whatever hoop it is now necessary to jump through. You explain your symptoms – the headaches, the insomnia, the reluctance to get out of bed in the morning. The doctor looks increasingly grave. They add in some questions of their own. Yes, you have lost your appetite, and yes, you have rather given up taking any exercise. Suddenly, the doctor brightens. "I think I have the answer!" they exclaim. "You are depressed. But I can make you better at once! Full of energy, positive, back to the party person you used to be. We will amputate your left leg!"
The rhetorical trick they play goes something like this. You love the NHS. (Once it was the railways and in the future it might be schools, but the NHS stands alone as the absolute essence of the public provision of a public good.) We love the NHS too. We so get where you are coming from. But …
And when it doesn't – the way rail privatisation hasn't delivered the advertised benefits of cost-effectiveness even if the trains are more comfortable – it won't be that you arrive four hours late into Crewe. You won't arrive at all.
The government wants us to believe that the only way to achieve good cost-effective healthcare is by privatisation. That has nothing to do with an objective truth. It is because many Conservatives truly believe that the state is incapable of doing anything better than the private sector could. This is sometimes so taken for granted that it is overlooked.
Jeremy Hunt must explain exactly why and how the private sector will be better. Better outcomes or just new paint? Shorter waiting times, but at what cost? And why, when OECD projections show that every developed country will be spending a growing share of GDP on health, does he believe that the private sector – invariably more expensive – will be the answer? And who will pay, with what, if he's wrong?