Wolf Hall preview: 'giving this sorry year some meaning'
The long-awaited adaptation of Hilary Mantel's book is upon us, so it's time to get down with the rise and fall of Thomas Cromwell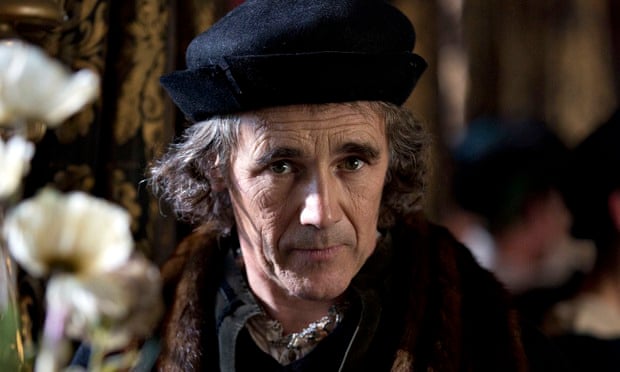 "Wolsey, you're out!" bellows the Duke of Norfolk, clearly a kind of proto Alan Sugar. "I will chew you up. Bones, flesh, and gristle!"
This impassioned speech means one of only two things: either someone's been snooping round in my draft texts, or the hugely anticipated dramatisation of Hilary Mantel's Wolf Hall is here. Alleviating the sharp pain of January and giving this sorry year some meaning, the six-part series, which charts Thomas Cromwell's rise and fall in the leadup to the Reformation, doesn't disappoint, covering everything from his interactions with the major players of the court through to his domestic life and flashbacks to a childhood being kicked across the cobbles by nasty Pa Cromwell. This, you may be getting a growing sense, is not a merry Tudor romp.
Cromwell is played by theatre's
Mark Rylance
, who has a scary talent for imperceptibly shifting his face to "classically flinty yet softened round the edges". The decision to cast lean and sinewy Damian Lewis as Henry VIII – a king who, in the public imagination, hovers somewhere between Brian Blessed with a lute and Bungle from Rainbow cosplaying Bacchus – might throw you, but it makes sense fast. He's menacing and naive, and only writing angry petitions to Rome can distract him from ye courtgash.
The desperate attempt by Thomas and the lord chancellor Wolsey to persuade the Pope to annul Henry's marriage to Katherine of Aragon in favour of someone – anyone – who could reliably pop out an heir forms the meat of this opening episode. When Wolsey fails, he's prised out of his sumptuously padded seat and the austere Thomas More is quick to sneak his behind into it. This doesn't go down well with Cromwell. "Lord chancellor?" he spits at More, "What's that? A fucking accident?"
He doesn't say a lot, old Crommers, but when he does there's no messing about, and the script is peppered with great lines for TC ("Do you want the king to huddle indoors like a sick girl? "That would be ideal for fiscal purposes"). By rights, each zinger should be followed by Thomas coolly putting on a pair of sunglasses while tapestries reading "DEAL WITH IT" unfurl around him.
I love this Mantel-grade Cromwell, the Tudor embodiment of not giving a toss. He came from nothing and ended up one of the most powerful men in Britain. He's bolshy but humble, with a dark, disquieting edge as a bonus. The unknown quality to his "still waters run deep" tip is exactly what draws history fans to the subject, and makes him a great central character for a drama.
History hasn't been kind to Cromwell. For five centuries he's been painted – quite literally, with his portraits being the ugliest of the bunch – as a conniving self-promoter. The mustier contingents of the history crew have sneered "revisionist" at Mantel's interpretation of Cromwell, but it's as legitimate as any other version when you consider that history is written by the victors and Cromwell ended up with his head in a basket. The executioner's blade that hangs over the kind and clever man of this drama makes you realise just how quickly your luck could turn. In a culture where people were cast aside, imprisoned and beheaded just to score political points, it seems obvious that the only way to make it was to be a bit of a cunning bastard.
If you were a woman, meanwhile, your best hope was that flashing a nice pallid bit of neck at the right moment would rouse the sensibilities of someone important. This was the skill of Anne Boleyn, who is a screwfaced nightmare here; the kind of girl who, in a different life where she lacked the power to ruin you, would have goblets of wine flung over her every night of the week. Case in point: she's fond of haughtily clipping out phrases in French, which frankly made you as much of a bore 500 years ago as it does now. She is awful and I hope to see a lot more of her. While I'm no history buff, I think I'll get my wish.
Wolf Hall starts on Wednesday, 9pm, BBC2