Why British people are protesting about Gaza, not Iraq
We have a deep movement in solidarity with Palestinians and our government is complicit in Israel's oppression of them
Lindsey German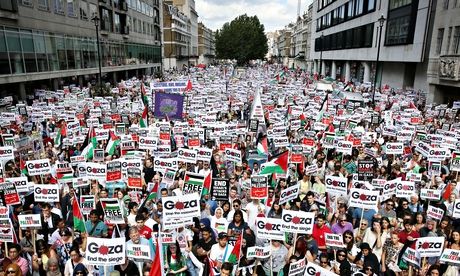 Why do people feel strongly enough to take to the streets over Gaza but not over other issues? Partly because there is a deep and longstanding movement in solidarity with the Palestinians that encompasses trade unions, community groups, faith groups and activists. But it is also partly because our government is seen as complicit in Israel's oppression of Palestinians. We provide arms, we trade with Israel and we defend the actions of the government there, just as we did in 2008-09 and 2012 when Gaza was bombed.
The terrible plight of the Yazidis, trapped by Isis and fearing a terrible fate if captured, is heart-rending but will not be helped by further military intervention in Iraq. The occupation of Iraq broke the infrastructure of Iraqi society. Sectarian tensions were encouraged and exacerbated by the occupying forces, and some of those now supporting Isis formed the opposition to this occupation.
Many people know that UK government foreign policy, far from solving problems, causes more humanitarian disaster. In a democracy, anyone is of course entitled to demonstrate over a range of issues. So maybe those Tory bloggers, shock jocks and neocons who are such warriors on social media should head down to Hyde Park and see how many they get around them for more military intervention.