Artist David Best on burning his Londonderry temple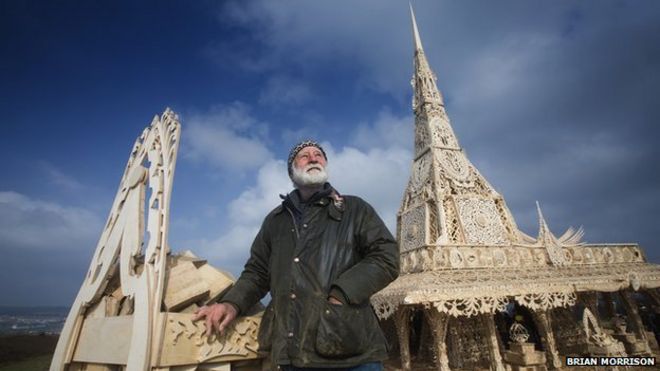 Take the path up beyond the top of the hill in Londonderry's Waterside, follow the winding country road up and up and, suddenly, you come upon it.
It seems alien - a white, light balsa wood temple of curlicues and spires and impossible twirls.
It is as if some giant hand plucked up a strange Balinese temple and whisked it across the globe, perching it gently on Kelly's Field high above the city of Derry looking down on the River Foyle.
Even in the stillness of early morning, there is a steady trickle of pilgrims.
Women pushing small children in prams, elderly people on sticks, people pushing others in wheelchairs, take the path of wood chippings down to the temple to gaze at the messages and the pictures with which it has been adorned.
"Leave a memory behind, let go of the past and look to the future," a large sign says at the entrance.
"A prayer for the caring," someone has written and nearby a large pill box is tucked into a pillar, filled with love hearts.
"My granny would have been so proud of me," is etched in childish characters on a small piece of wood.
Tribute
Faces smile out of memory cards, complete with date of birth and date of death.
The temple is about people bringing burdens of loss and suffering and leaving it to be burned on Saturday night, when all will go up in flames.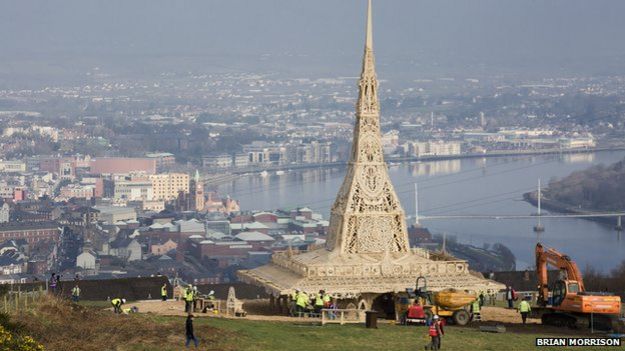 David Best, the American artist behind the project, made his first temple as a tribute to a young man who died racing his motorbike.
For his friends, it was their first experience of death, and at the Burning Man festival in the Nevada desert in 2000, David helped them build a tribute that they burned.
From there, many temples to help many people deal with loss have followed. It is what life conjured up for him.
"This is my ninth last temple," he says.
It has been a labour of love carried out in rain, snow, hail and wind. Volunteers of all ages worked to create the intricate airy and ornate wooden frames that rise up to a spire in the sky.
Best is not on a one-man mission about peace and healing and said that people in Northern Ireland have little tolerance for pretention.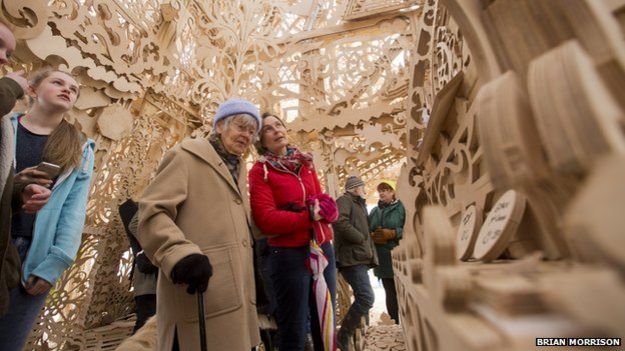 "Northern Ireland does very well without the likes of David Best. They have already manifested that.
But this is a celebration of what Ireland has done, it is to share in the celebration of peace in Northern Ireland.
"There is grief but there is also absolute joy - this is to share in that."
He points to the thousands of visitors who have come to take part - the temple is filled with them.
He remembers a blind woman whom he led into the peace of the temple space.
"I can feel it," she told him.
Inclusivity
This city is no stranger to burning - bonfires are very much a part of both loyalist and nationalist traditions.
Helen Marriage, director of Artichoke, the organisers of the event, said this sparked her interest.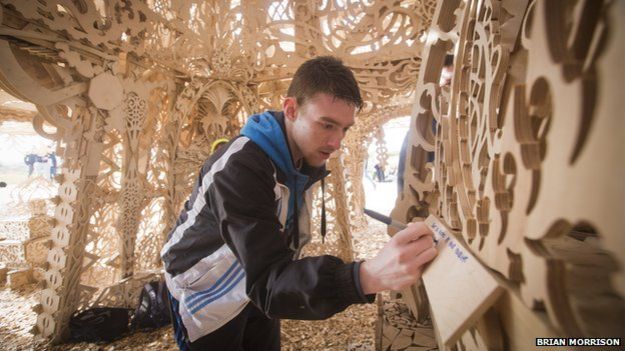 "It was about taking the bonfire tradition and subverting it," she says.
"I thought it would be interesting to invite David to create a bonfire about inclusivity, peace and letting go of the past."
The choice of the field was important - it would not be considered a neutral space as it is close to a republican estate in the city.
"I spoke to elderly people who had picnicked as children up here and then came the Troubles and they had never been back.
"The spaces that are never considered to be shared never become shared," she says.
The decision was made to try and change that - to reopen areas that some considered 'no go'. The reception has been very warm - all have been "most welcoming", she says.
Events manager Seamus Coyle is blessed with an understanding family. The temple has consumed his time in the past few weeks.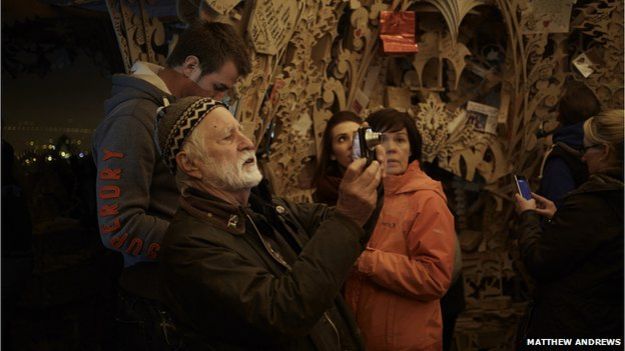 He has worked on Chinese New Year in Hong Kong, the Liverpool City of Culture and the Giro d'Italia in Northern Ireland, but this project has been chock full of challenging questions like: "How do you build a road?"
"It's been more like a building project," he says.
But it's not work, he said, and the people taking part are volunteers.
"This is not about a job and about paying bills, it is beautiful and some people will say it is a shame to put a match to it, but it is built on people's losses and that is how it goes."
Touched
All day on Saturday, the temple will be closed as work goes on to fill it with wood chips for the 'big burn'.
The idea of fire as cleansing is a tradition that dates back thousands of years.
Everything about this project leads to the final burning.
David Best has chosen people who have touched his heart to help him burn his temple.
It will be a carefully choreographed fire - one that should live on in the memories of the 20,000 people who will stand there and watch.
And after the temple has turned to ash and people have turned back to jobs and kids and the weekly commute, the field will be reseeded and there shall be no trace of the day of the spring equinox and the thousands gathered to watch the flames lick and leap.
It shall be as if it never happened... but they shall carry the memory like a photograph in the wallet of their hearts.