BBC iPlayer 'watched by more than 60 million people outside the UK for free'
Research finds more than 38 million people in China are using VPNs or proxy servers to watch BBC shows – and could be a useful source of revenue
Shares
Comments
More than 60 million people around the world are bypassing internet restrictions to watch the BBC's shows online.

New research has claimed that 65 million people from abroad watch the broadcaster's licence-fee funded

iPlayer

service using proxy servers or virtual private networks, which are able to mask the location of the user.

The free catch-up TV service is meant to only be available in the UK, but in

China

alone it is thought that there are 38.5 million people using it, with shows such as Sherlock hugely popular.

The figures emerged from research company GlobalWebIndex, which carried out research interviews with more than 47,000 people from around the globe. This included people in countries such as China, India, Japan, the US, Brazil, Germany and France.

Its report about the

BBC

iPlayer said: "Although the iPlayer is funded by the UK licence fee and is therefore geo-restricted to be viewable only by people resident in the country, GWI's data shows that the service has a huge global audience – with many turning to virtual private networks (VPNs) or proxy servers in order to access the service from abroad."

The report said that at a global level about a quarter of online adults are using VPN technology. It added that accessing "better entertainment content" was by far the most popular reason for using them.

In every country that the report surveyed 1% to 8% of online adults admitted they were using VPNs and have accessed the iPlayer.

But authors of the report sounded an upbeat note, saying the figures were "good news" for the BBC as it showed the "clear potential" to make money if it opened up access to the service and charged foreign viewers. It suggested that significant numbers of these people would be prepared to pay for the iPlayer as they already paid for other TV subscriptions.


A BBC spokesman said: "BBC iPlayer, and the content on it, is paid for by UK licence fee payers to watch and download in the UK and the terms of use reflect that. We do not comment on individual cases regarding breaches of BBC iPlayer's terms of use, but we take steps where appropriate to protect the intellectual property belonging to rights holders."Jason Mander, head of trends at GlobalWebIndex, who put the research together, said: "The implications for iPlayer are stark: globally, almost 65 million non-UK users are using VPNs in order to access the service, with a mighty 38.5 million of them being in China."

The report comes after BBC shut the global version of the iPlayer last month having charged people to use the app in western Europe, Australia and Canada. It was claimed US pay-TV companies made a threat to pull the BBC America channel if the corporation made the app available in their country as they feared it would impact on their own audiences.
The international edition of the iPlayer had showed programmes including Top Gear, Sherlock and Doctor Who. The BBC always labelled the global service a "pilot" and as far back as 2013 the commercial arm of the broadcaster said it would be pulling it.

It had charged European users £4.30 a month, with Canadians getting it for £3.70 and Australians paying £3.80.

The domestic iPlayer is by far the most popular on-demand service in the UK, with 45% of the country's internet users aged between 16 and 64 using it in the last month. Across the world 9% have used it in the last month, the report added.

However the report said iPlayer users still used normal linear TV for more hours a day than they did the internet.






英國香腸的哀歌:含量:脂肪、化學品--以及肝炎
肝炎
A bag of 'fat, chemicals – and hepatitis': why Britain has stopped eating sausages
The British banger is heading towards oblivion, with sales down 2bn since 2008 – it's hardly surprising given what's in them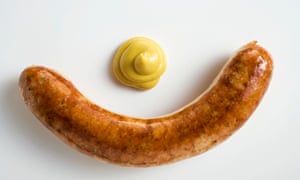 Name: The sausage.
Age: 5,000 years.
Appearance: A cylindrical tube of intestine stuffed with naught but pure evil.
They haven't. They have! We're eating 2bn fewer sausages a year than we were in 2008.
But sausages are brilliant. Everyone loves a sausage. Well, that's demonstrably untrue. Shoppers apparently don't like the fact that they're bulked out with chemicals and wheat rusk.
But that's what gives them their delicious texture.And, comparatively, they're drenched with fat and salt.

So if we're not eating sausages any more, what are we eating? Chicken and steak, apparently. Sales of beef have doubled since 2008, as have sales of fresh chicken. Because, unlike sausages, when you buy a chicken, you know you're just eating a chicken.But that's … oh, no, actually you've got me there. See? This is why nobody eats sausages any more. Eating a sausage is like playing a game of pass the parcel, where the prize is obesity and an inflamed liver.
Yeah, a miserable chicken that grew up being
pumped full of antibiotics in the dark
.
And yet that's still preferable to eating what basically amounts to a warm bag of hepatitis. Sausages are dead. Let it go.
This is a British tragedy. First
sales of marmalade dropped
, now sausages. What next? Top hats? Cigarettes?
Look, calm down. The sausages that are still being sold are apparently some of the best quality sausages ever made. The fightback might start here.
Good, because the thought of wrapping bacon around a carrot on Christmas Day is turning my stomach. Mine too, dear friend. Mine too.
Do say: "I'll have a full breakfast, please. Hold the chicken breast."
Don't say: "Next on That's Life, a dog that can say the word 'hepatitis.'"