Many of the buses introduced by Boris Johnson are running almost entirely on diesel, negating the intended environmental benefits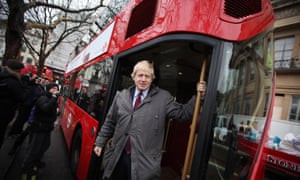 Sean O'Shea, chief operating officer of bus operator Metroline, confirmed most of its 55 new Routemaster buses have suffered from the battery problems and many are running on diesel mode more than they were intended to.
Drivers have complained to Wolmar that the battery problems mean they are driving buses with inconsistent and sometimes inadequate power, which they claims increases the risk of collisions.
According to Wolmar, drivers say a lack of power means they have problems pulling away from bus stops safely. Wolmar said one driver told him that all 10 of the Boris buses he drove one week had no battery charge.
Metroline and TfL denied there was any risk to passenger safety. A spokesman for TfL said: "New Routemaster buses are completely safe whether they operate in diesel mode or electric mode."
O'Shea said: "An initial batch of these vehicles have a battery issue and our vehicles are in that batch. We would not allow any vehicle to go out in an unsafe condition. We will follow up on any issues brought to our attention."