Crowdfunding campaign hopes to save William Blake's cottage for nation
Fundraisers looking to raise £520,000 to buy the house where, he wrote, 'Heaven opens here on all sides her golden Gates'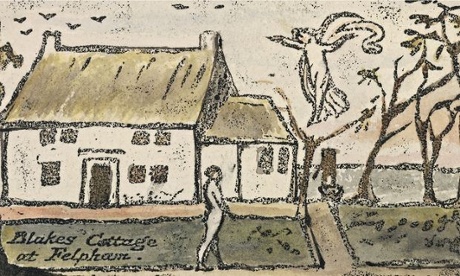 A campaign to crowdfund the £520,000 needed to buy the cottage on the Sussex coast where William Blake hymned 'England's green and pleasant land' is due to launch next week.
Intending to turn the cottage into a place which celebrates Blake, "welcomes visitors, poets, artists and scholars to continue his legacy", and is "an exemplar of a way to live a life through courage and creativity", the Blake Society's campaign is backed by literary fans of the author from Philip Pullman to Stephen Fry, Alan Moore and Russell Brand.
The crowd-funding campaign will launch on 19 September. "We're confident we will raise it … We thought if we could raise the money by asking a lot of people to give a very little, it would give us an independence. Blake is a difficult character, who tends to bite the hand that feeds him, so it's better to have this independence. That's why we are going down that route," said chair of the society Tim Heath.
Once the cottage is purchased, the society intends that it will be put into a charitable trust to be held in perpetuity for the benefit of the nation.
"In his lifetime Blake lived in nine houses. Only two survive. The other house is in London, and people are always welcome there to talk about Blake, but it's not a museum and has a very small capacity. The idea is to link these two remaining houses where Blake lived," said Heath. "Literary houses can have a detached connection to their author, but for Blake place was so important that it seems extraordinary that in Britain we don't celebrate these two extraordinary houses."
"There's that expression – no one is a prophet in their own land. Blake's position in English culture is very strange. Jerusalem is almost an alternative national anthem … yet there in that cottage he was arrested and accused of sedition," said Heath.
"The festival has been set up to raise awareness of the shared campaign to buy Blake's cottage and to launch the crowdfunding side," said Searle. "A lot of the artists and contributors have offered their time at short notice because they are keen to help secure the cottage for the nation. It is also important for the local area since it gives us a bit of a claim to fame as the birth-place of Jerusalem, a piece of Blake's [poetry] that is well loved. Blake himself tended to sing his poetry – it is quite a thrilling thought to imagine him singing as he walked on along the 'banks of the ocean'".